2020 Annual Report
Conservation Matters
TABLE OF CONTENTS
Message from the Chair, Board of Directors and Chief Executive Officer
Progress on Strategic Accomplishments (2018-2022)
Video: Conservation Matters | TRCA Jurisdiction Map
STRATEGIC PLAN OBJECTIVES:
OUR VISION | OUR MISSION | OUR CORE VALUES
Select image below to view the full-sized TRCA jurisdiction map.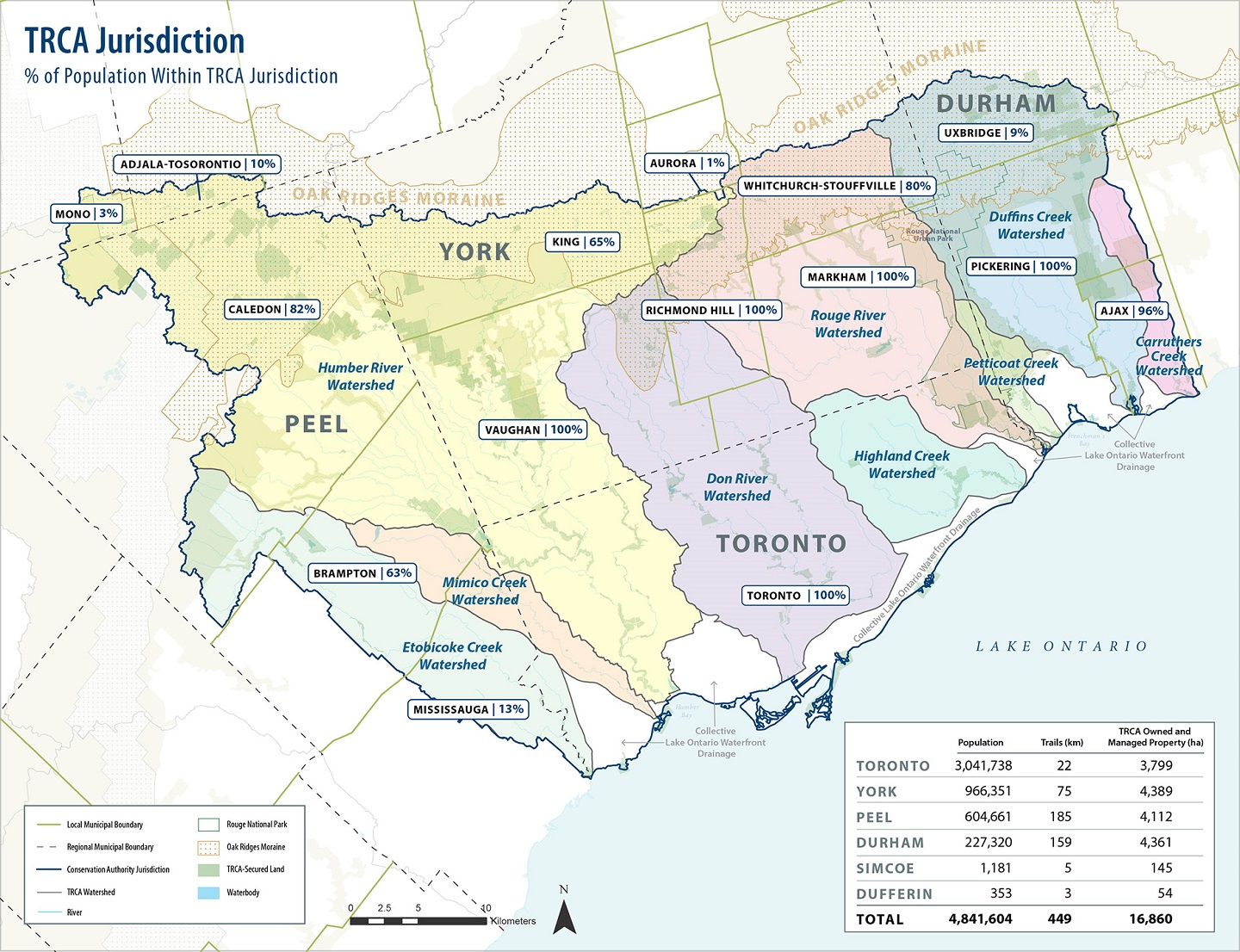 PLEASE NOTE: Population percentage has been rounded to the nearest whole number.
In a year like no other, 2020 highlighted the vital role that Toronto and Region Conservation Authority (TRCA) fulfills for our communities within the Greater Toronto Area (GTA) and demonstrated how conservation matters.
Amid the COVID-19 global health pandemic that caused major disruptions to our residents, businesses, and government partners, TRCA continued to seamlessly deliver our essential services and community supported programs. Across our jurisdiction TRCA maintained the pace of delivery for flood and erosion prevention works, trails, and restoration projects. Using niche machinery including our watercraft, drones, updated LiDAR and GIS data, our teams continued our work to monitor the natural environment, protect and upgrade aging infrastructure, while constructing new trail linkages to meet the growing recreation and active transportation demands within our communities.
At the same time, TRCA's inter-disciplinary experts on our permit review teams supported our economy while mitigating and protecting the natural environment through the issuance of over 1,000 permits for development and infrastructure projects. By developing and enforcing strict COVID-19 safety protocols and leveraging recent information technology investments, TRCA demonstrated its ability to continue critical work, both remotely and in the field, resulting in strengthened relationships with partner municipalities, government agencies and industry.
From March onwards, COVID-19 directives prompted residents to visit our conservation lands at an unprecedented rate and TRCA's greenspaces provided residents with a safe and enjoyable way to safely explore their communities and connect with nature. As more Ontarians looked close to home for their vacation and recreation needs, TRCA's parks and trails were busier than ever. In addition, when the province restricted in school learning, without missing a beat, our education programmers adapted to virtual delivery in response to changing learning needs to provide much needed online educational opportunities.
Thanks to the tireless and award winning efforts of our staff, we were delighted to see GTA residents embrace their role as watershed stewards and engage in safe and meaningful activities including smaller scale community plantings, virtual information sharing forums, and online events all while adhering to government directives.
TRCA also worked successfully with our municipal partners to secure significant funds in the form of federal Disaster Mitigation Adaptation Fund support to address infrastructure needs including necessary works in Toronto's Rockcliffe community and for the Downtown Brampton Flood Protection project. This vital federal support was matched with municipal funding to create a combined $145 million dollar investment in these two projects alone which will allow TRCA and its partners to move forward on detailed design and implementation.
In the fall, when the provincial government introduced sweeping changes to both the Conservation Authorities Act (CA Act) and Planning Act in Bill 229, TRCA vocally endorsed the changes related to transparency and accountability, but did everything in its power to advise the Province on our pragmatic concerns regarding governance, planning, permitting and enforcement.
Through our efforts, some of our concerns, including ensuring our continued role in land use planning around natural hazards, flexibility to deliver programs supported by government partners, and clearer enforcement provisions were successfully addressed. However, the final legislation raises unprecedented challenges particularly with new measures that require conservation authorities to issue CA Act permits for development projects if they have previously received a Planning Act Minister's Zoning Order (MZO) approval.
While new MZO provisions in the CA Act make our work to protect our watersheds more challenging, TRCA will continue to operate in a manner that reflects the best available science and professional standards in our permit reviews. In addition, through our role on the Province's Working Group on CA Act regulations we will share our best practices and advice to help shape the future regulations.
TRCA is thankful to partner municipalities, in addition to our vast network of residents, businesses, professional associations, not-for-profit organizations and other stakeholders throughout our jurisdiction for their unwavering encouragement and support of our actions and our collaborative approach. The outpouring of support last year demonstrated that the people of Ontario understand the important impact of our conservation initiatives. It is in this spirit of togetherness that TRCA will continue to work with our partners and stakeholders to promote responsible development that will protect our important greenspaces, watersheds, and the Lake Ontario shoreline as we work together to build more sustainable and resilient communities.
As in past years, TRCA's 2020 Annual Report showcases our important work and highlights our successes. Below you will find a wealth of evidence about the important role we play in our communities. TRCA remains committed as ever to protecting lives and property, preserving, and restoring our region's natural heritage, and providing safe and healthy programs and activities in our communities.
Through our partnerships, award winning programs and projects such as The Meadoway, the Sustainable Neighbourhood Action Program, Monarch Nation and others, TRCA remains at the forefront of change in applying our science based approach and best practices to protect and restore natural systems and to reduce our ecological impact. With the support of our partners and stakeholders, we look forward to continuing to demonstrate how TRCA's important work matters in protecting our communities and our shared natural environment.
READ: TRCA Chair Jennifer Innis in the Toronto Star on the critical role of Conservation Authorities.
Progress on Strategic Accomplishments (2018-2022)
In November 2018, TRCA's Board of Directors approved a Five-Year Update to Building the Living City 2013-2022 Strategic Plan with the addition of measures and outcomes. The following outlines TRCA's progress in 2019 (inside) and 2020 (outside) on achieving strategic plan objectives.
Select each of the strategic plan objectives below to view the projected 2018-2022 accomplishments and 2020 results.
---
---
---
KEY:
PROJECTED ACCOMPLISHMENTS (2018 – 2022)
2020 RESULTS
Through Partners in Project Green participants and SNAP neighborhood residents, over 100 projects and 600 sustainability actions were implemented achieving:
PROJECTED ACCOMPLISHMENTS (2018 – 2022)
2020 RESULTS
Management of Invasive Species
PROJECTED ACCOMPLISHMENTS (2018 – 2022)
2020 RESULTS
304,421 Units of Plant Material
Tree plantings undertaken by TRCA staff contribute to the overall forest canopy in the jurisdiction. Trees and shrubs sourced through TRCA's nursery in Vaughan and planted by TRCA staff are broken out by municipality below:
PROJECTED ACCOMPLISHMENTS (2018 – 2022)
2020 RESULTS
TRCA worked on 263 ecosystem and resource management
projects and programs achieving:
PROJECTED ACCOMPLISHMENTS (2018 – 2022)
2020 RESULTS
PROJECTED ACCOMPLISHMENTS (2018 – 2022)
2020 RESULTS
PROJECTED ACCOMPLISHMENTS (2018 – 2022)
2020 RESULTS
PROJECTED ACCOMPLISHMENTS (2018 – 2022)
2020 RESULTS
PROJECTED ACCOMPLISHMENTS (2018 – 2022)
2020 RESULTS
PROJECTED ACCOMPLISHMENTS (2018 – 2022)
2020 RESULTS
PROJECTED ACCOMPLISHMENTS (2018 – 2022)
2020 RESULTS
PROJECTED ACCOMPLISHMENTS (2018 – 2022)
2020 RESULTS
Challenges
FINANCIAL
PROVINCIAL POLICY
PEOPLE AND PROPERTY
COLLECTIVE IMPACT
TRCA Board of Directors
2020 MEMBERS
Adjala-Tosorontio/Mono
Durham
Peel
Toronto
York
Advisory Boards
TRCA Senior Leadership Team 2020
OUR VISION
The quality of life on Earth is being determined in rapidly expanding city regions. Our vision is for a new kind of community — The Living City — where human settlement can flourish forever as part of nature's beauty and diversity.
OUR MISSION
To protect, conserve and restore natural resources and develop resilient communities through education, the application of science, community engagement, service excellence and collaboration with our partners.
OUR CORE VALUES
Integrity
We are honest, ethical, and professional.
Collaboration
We achieve shared goals through a solution-oriented approach.
Accountability
We are responsible for our actions, behaviours and results.
Respect
We are equitable, fair and respectful while recognizing individual contributions and diversity.
Excellence
We maintain a high standard of performance and customer service, consistently striving to improve and produce quality work.