Toronto and Region Conservation Authority (TRCA), in partnership with the City of Toronto, is undertaking maintenance works on existing shoreline erosion control structures along Lake Ontario within Long Branch Park in order to protect against the hazards of shoreline erosion and address public safety concerns.
Project Location
The project area is in Long Branch Park along Lake Promenade at the base of Long Branch Avenue, in the City of Toronto. The area of concern includes an armourstone headland and revetment located along the north shore of Lake Ontario.
Learn More About the Project
Project Background
Long Branch Park was built in the 1960s and 1970s. The park features two erosion control structures which have been monitored since 2006 as a part of TRCA's Erosion Risk Management Program (ERMP). TRCA monitoring records show that the headland is in a failing condition. Several large scours, displaced armourstone, and slumping along an informal pathway have been identified as areas of concern along the structure.
The revetment was classified as failed in 2017. The bank in this area has shown signs of active erosion, including displacement of rock material, loss of mature trees, and undercutting of the top of bank which has placed a formal park trail at-risk and presents a public safety hazard.
Recent significant weather events, including record high lake levels in 2017 and 2019, as well as severe winds from the April 14-15, 2018 wind storm event, have made the already deteriorating condition of these shoreline erosion control structures worse.
TRCA retained Shoreplan Engineering Limited to develop detailed designs for repair of the armourstone headland and revetment in order to address ongoing erosion concerns. The design includes reconstruction of the shoreline armouring using both original and new rock material, with the addition of a second layer of armourstone to increase the structures long-term resilience to storm events.
Scope of Work
The scope of work for this project includes the following components:
Site preparation, including installation of Erosion and

Sediment

Control (ESC) measures and construction fencing, establishment of staging/stockpiling areas, removal of trees and building of access roads
Removal of existing stone material along the shoreline
Installation of a new armourstone revetment
Site

restoration

including tree and shrub plantings
Construction Information
The work is scheduled to commence late September 2020 and is anticipated to be completed by September 2021.
To ensure public safety, Long Branch Park will be fully closed during construction hours (Monday to Friday from 7:00 am to 4:30 pm). Please use the recommended detour route indicated on the map below. Playground access will be available outside of these times on evenings, weekends, and holidays. Access to Len Ford Park will still be available at the west end of the site. A portion of street parking along Lake Promenade will also be closed to allow for construction access.
For your safety, please respect all posted construction signs and stay clear of the work area and equipment. Your cooperation and patience with this undertaking is appreciated.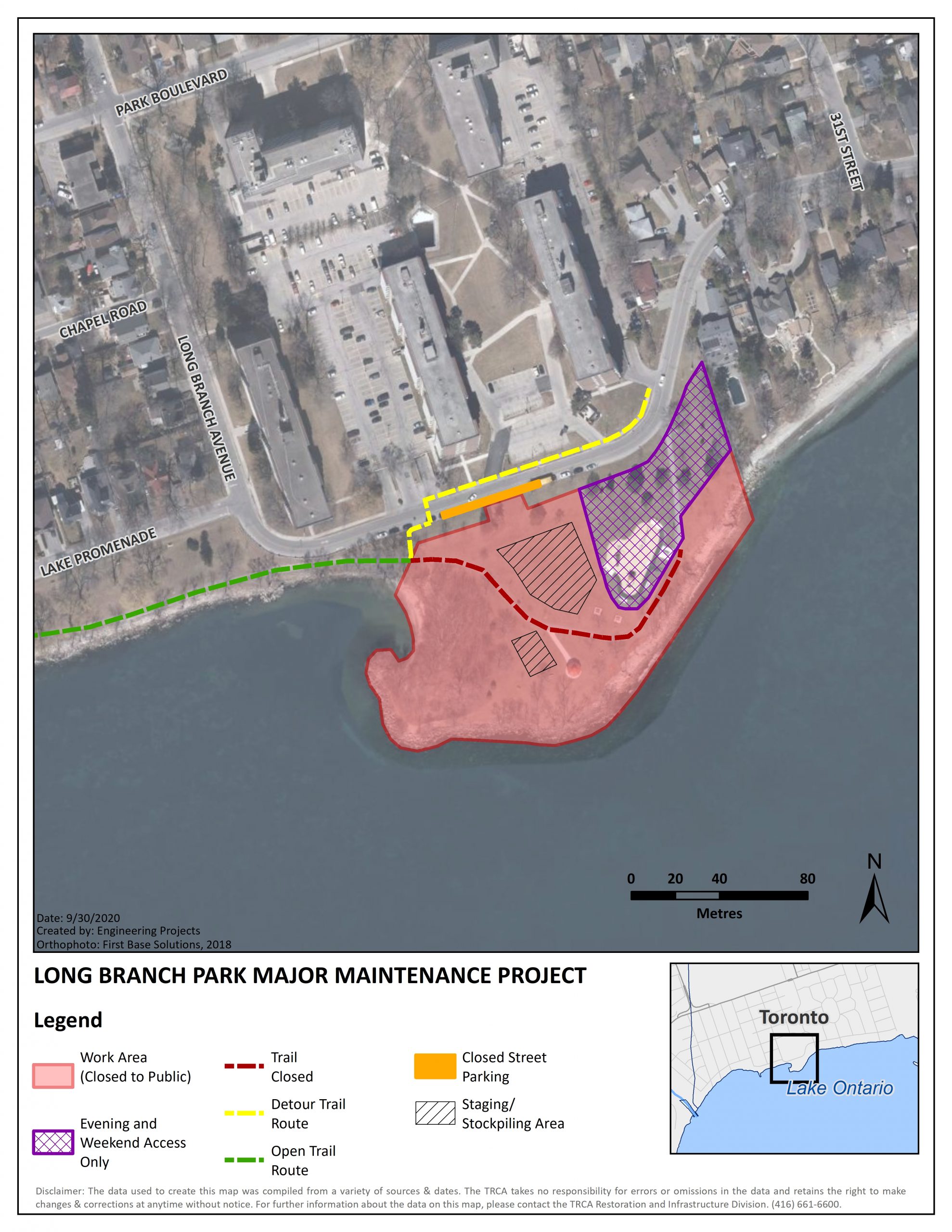 Public Notices
A Notice of Construction was published in the September 24, 2020 edition of the Etobicoke Guardian to inform the public about the project and construction timelines. The notice is available for viewing at the link below:
Notice of Construction – Long Branch Park
Notice of Construction signs were placed at the park entrances, as well as the entrance to Len Ford Park. The Notice of Construction is available for viewing below:
Notice of Construction Sign – Long Branch Park
Project Updates
October 2, 2020
Construction crews mobilized on-site this week. Site setup has begun, including the establishment of perimeter fencing, staging and stockpiling locations, tree protection zones, and erosion and sediment control measures. The playground has been fenced off to allow for continued public use outside of construction hours.
October 16, 2020
Site setup has been complete and crews are beginning to build an access route along the shoreline.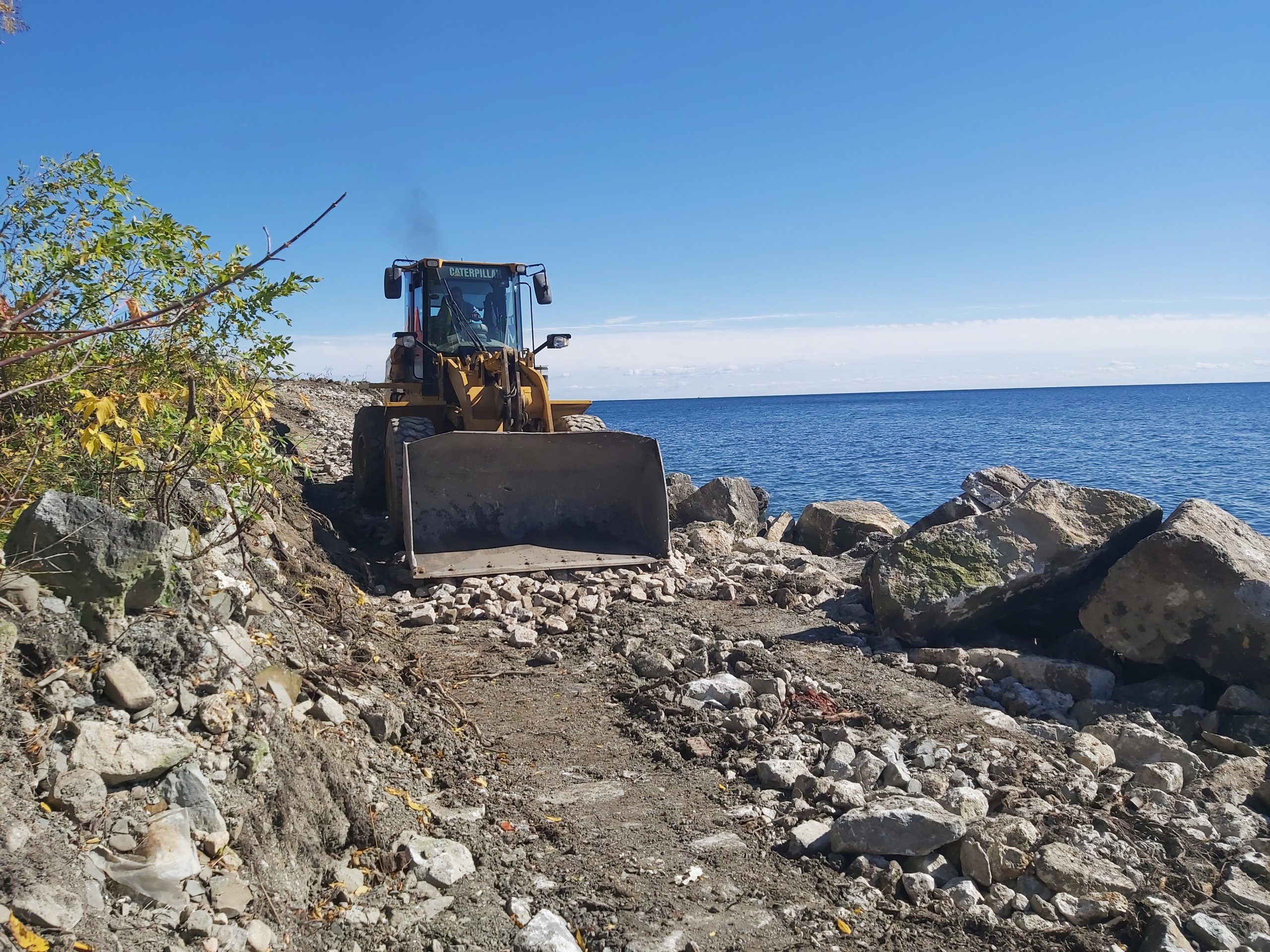 October 30, 2020
Reconstruction of the revetment has begun on the western extent of the structure.
November 13, 2020
Construction continues along the revetment with over 50 metres of in- and out-of-water stone material now placed. The first feature designed to enhance fish habitat has also been finished.
November 27, 2020
Work continues on the revetment with the placement of toe, slope and crest stone. Two more fish habitat structures have been constructed as well.
December 15, 2020
Construction continues along the revetment. Approximately 100 metres of in-water works and 45 metres of above-water works have been completed. A fourth fish habitat feature has been finished.
January 11, 2021
Construction of the revetment continues. Another 70 metres of in-water stone material has been placed. One additional fish habitat structure has also been completed.
February 22, 2021
Construction of the revetment continues. Another 20 metres of revetment stone material has been placed. All toe stone material has been placed and all
fish habitat
features have been completed. Work continues on the above water parts of the revetment.
Contact Us
The Planning Team is located at TRCA's Boyd Field Centre in Vaughan:
Restoration and Infrastructure Division, Engineering Projects
9755 Canada Company Avenue
Vaughan, Ontario
L4H 0A3
For more information regarding this project, please contact Rebecca Salvatore, Project Manager:
Rebecca Salvatore, Project Manager 
Engineering Projects
Restoration & Infrastructure Division
rebecca.salvatore@trca.ca
416-560-1823