Ski trails are CLOSED until conditions improve. 
Today, we're open from 9:00 a.m. - 4:00 p.m.. See all hours.
table of contents
Amenities
Accessible Facilities

Swimming at Lakeview Splash (Closed)

50 km of trails

Picnic Sites Available

Camping - Summer

Fat Bike Rentals (Closed)

Cross Country Skiing

Winter Ski Snowshoe Rentals

Children's Play Areas

Outdoor Basketball court

Facilities for Private Functions

Washrooms
Activities
Seek adventure at Albion Hills Conservation Park, where experiences engage you — from mountain biking through the woods, to camping along the riverside, to running in adventure races. Spend an afternoon, or a whole weekend!
Winter Safety Message
TRCA reminds all nature seekers to be extremely cautious when enjoying time outside this winder, and to stay on designated trails at all times. Ice is never 100% safe. Please STAY OFF local TRCA rivers, streams, ponds, reservoirs, wetland and marches. Conditions are not being monitored and ice may be unsafe. Venturing out onto the ice is NOT a permitted activity at TRCA parks. Do not put yourself and others at risk.
Please Note:
Prior to coming to this location, every visitor must do the Ontario Ministry of Health self-assessment for COVID-19. If they do not pass the assessment, they should not visit the location.
Wearing a mask or a face covering is required in indoor TRCA facilities as per municipal by-laws. All visitors entering an indoor premise are required to wear a mask or face covering while inside. Please arrive prepared with a mask or face covering.
FINDING YOUR WAY AROUND
STAY SAFE! Stay on the trails you see on the map.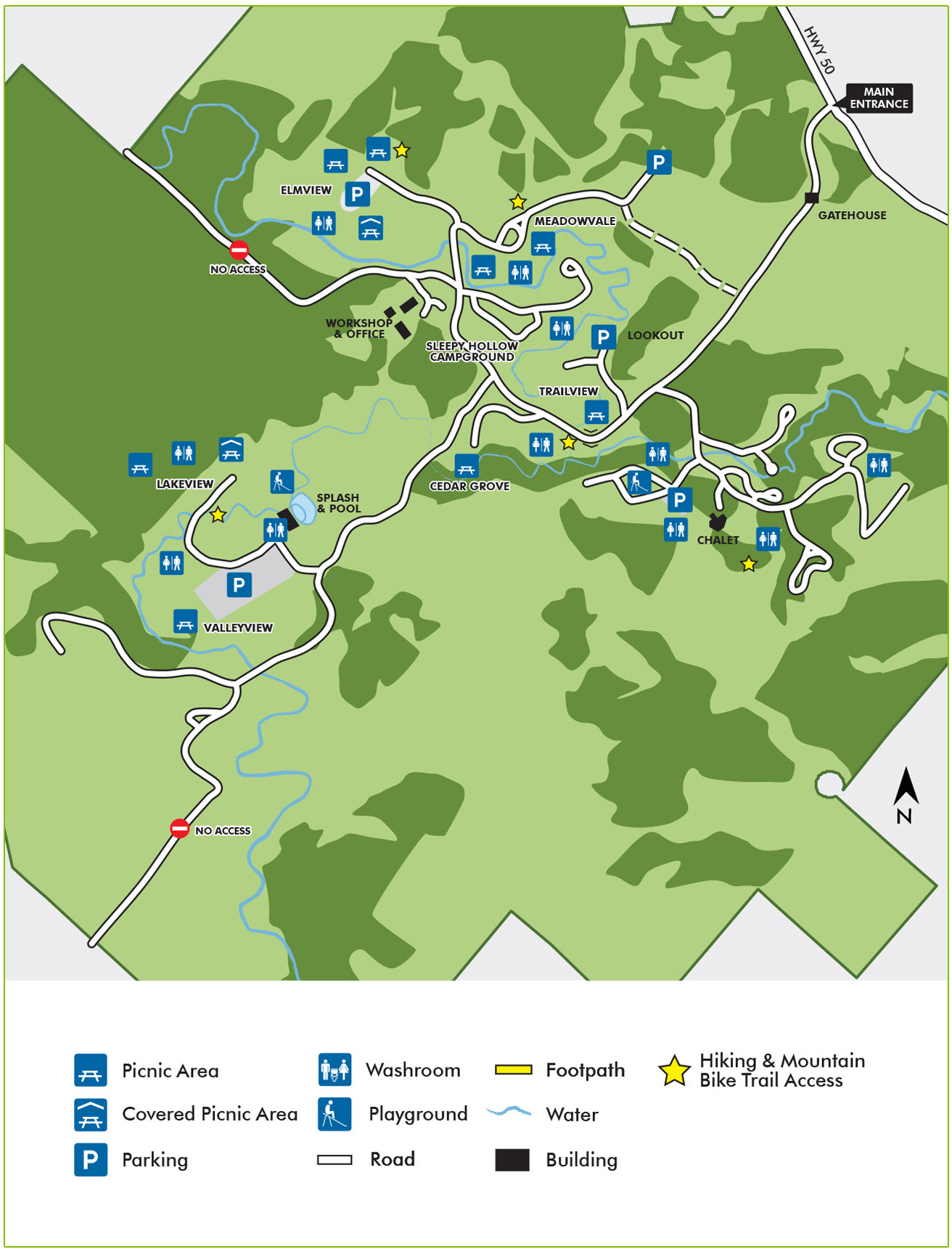 Trail Maps
RECREATION AT ALBION HILLS
Mountain Biking
If you're in search of great mountain biking trails, look no further than Albion Hills Conservation Park, which boasts some of the most spectacular in southern Ontario. Explore the beauty of Albion Hills on trails designed for riders of all ages and skill level.
More than 50 kilometres of double-track and technical single-track trail.
Fast, rolling terrain and long down-hills.
Situated on 538.5 hectares of beautiful forest in the hills of Caledon.
Bike wash station.
Shower and washroom facilities.
Full-service campground and parking.
Cross-Country Skiing
Hit the trails with your family and friends! Albion Hills Conservation Park has great trails for cross-country skiing — an excellent way to stay active in winter while enjoying the outdoors. Ski Trail Passes can be purchased online or at the Front Registration Building.
CROSS-COUNTRY TRAIL FEES
| | | |
| --- | --- | --- |
|  Per Person | Price (+HST) | |
| Adult (Ages 14-64) | $16.69 | |
| Child (Ages 4-13) | $9.90 | |
| Toddler (3 and under) | FREE | |
| Senior (65+) | $13.54 | |
| Family* | $43.44 | |
| Please visit TRCA's cross-country ski page for more information. | | |
Use of cross-country ski trails at Albion Hills, inclusive of general admission, per day * 1 or 2 adults + children under 13 years.
Camping
Camp close to home at Albion Hills! With scenic nature trails for hiking and mountain biking, and family-friendly facilities including a swimming pool and splash area, Albion Hills Campground is the perfect escape from the city. Serviced and unserviced sites are available for tents, trailers and RVs. Book online here.
Swimming at Lakeview Splash
As the health and safety of our communities, patrons, and staff is paramount, Toronto and Region Conservation Authority (TRCA) has made the difficult decision to suspend aquatic facility operations for the 2021 season due to the COVID-19 pandemic. LEARN MORE.
Cross-Country Running
During the fall, Albion Hills Conservation Park plays host to a number of cross-country races. The large shade trees offer runners the perfect conditions for training and competition. Our friendly staff has plenty of experience in hosting cross country runs and will help make your next race a success.
Adventure Racing
Albion Hills Conservation Park plays host to some of Ontario's most exhilarating adventure races, including:
Day Camps
Looking for a great place to take your day camp or day care this summer? Consider Albion Hills Conservation Park. With its many natural amenities and lush green spaces, kids will love to explore nature and get active! Albion Hills Conservation Park offers many shaded areas, picnic shelters for lunch and snack times, open fields for sports and plenty of washrooms. Special permit pricing applies.
Group Camping
Group camping is available at Albion Hills Conservation Park for groups of 20 or more. For more information on group camping or to make a reservation, please contact 905-880-4855 or toll-free at 1-800-838-9921.
Picnics
With 11 picnic sites, Albion Hills Conservation Park can easily accommodate groups both large and small. Our friendly customer service representatives will help you determine the best site for your group and can even set you up with caterers, tent rental and entertainment companies. To book your picnic site, visit picnics.ca.
Weddings
Nestled in the woods on 1,200 acres in the rolling hills of Caledon, the Albion Hills chalet can accommodate up to 135 people, and offers high ceilings, a large deck and a panoramic view of the forest. A flat lawn, located directly outside the chalet, is an ideal location for ceremonies or larger receptions.
Corporate Meetings and Events
Make your next meeting a productive one – in a relaxed, natural environment that will spark creativity. The lush, panoramic views of the Albion Hills chalet will inspire your team with the beauty of the natural surroundings. For information on available dates or to book an appointment to visit the facilities, please call 416-667-6295 or email vservices@trca.ca.
Groups and Education
To book Albion Hills Conservation Park for group cross country skiing, running or day camps, please call our customer service department at 416-667-6295. To book a group camping site, please call Albion Hills Conservation Park directly at 905-880-4855 or 1-800-838-9921. Located within the park, Albion Hills Field Centre offers curriculum-based education programs, day and overnight summer camps, and outdoor recreation retreats for Scouts, Guides, corporate and community groups. www.trca.ca/ahfc
ACCESSIBILITY
There are six accessible parking spaces on gravel located beside the splash pad. The splash pad facility is accessible, including a washroom and barrier free entrance to the pool.
All washroom facilities have been outfitted with limestone ramps for barrier free access.
PET POLICY
Pets are permitted at most TRCA conservation parks. However, to ensure everyone's safety and enjoyment, we do insist that:
Pets are kept on a leash no longer than 2 metres at all times.
Owners clean up after their pets.
Pets are not permitted on trackset ski trails.
Pets are not permitted in the Aquatic or Visitor Centres.
A maximum of three pets per person/family.
Pets are never to be left unattended.
For more information, please read our Domestic Animals Policy.
---
Park Admission Fees
Note: The admission fees do not include Camping Registration Fees. General admission applies to hiking, fat biking and snowshoeing Admission Fees
| | |
| --- | --- |
| Per Person | Price (+HST) |
| Adult (14-64) | $6.80 |
| Senior (65+) | $5.90 |
| Child (4-13) | $4.60 |
| Toddler (0-3) | FREE |
*Conservation Parks Family Membership benefits include free general admission for up to six individuals arriving together in one vehicle only. We cannot validate free admission for those arriving in separate vehicles. Proof of identity and membership may be requested upon arrival.
---
CONSERVATION PARKS MEMBERSHIPS
Enjoy FREE general admission to Albion Hills and other locations, along with a host of discounts and savings, when you purchase a Conservation Parks Family & Friends Membership!
---