Closed for the Season
table of contents
Amenities
Accessible Pool Facilities (Closed)

Picnic Sites Available

Pets Permitted on Leash

Washrooms
Activities
Enjoy the outdoors at Petticoat Creek Conservation Park, with inviting pools and a splash area to cool off, picnic sites to gather with friends and family, and the Waterfront Trail to experience Lake Ontario.
Winter Safety Message
TRCA reminds all nature seekers to be extremely cautious when enjoying time outside this winder, and to stay on designated trails at all times.
Ice is never 100% safe. Please STAY OFF local TRCA rivers, streams, ponds, reservoirs, wetland and marches. Conditions are not being monitored and ice may be unsafe.
Venturing out onto the ice is NOT a permitted activity at TRCA parks. Do not put yourself and others at risk.
Get winter safety tips
Petticoat Creek Conservation Park offers a unique natural corridor for wildlife to live or travel along the creek towards Lake Ontario. It is home to 69 types of trees, including willows, oak, birch and pine, and a wide variety of wildlife, notably white-tail deer, fox, red tailed hawk, rabbits and squirrels.
Please Note:
Prior to coming to this location, every visitor must do the Ontario Ministry of Health self-assessment for COVID-19. If they do not pass the assessment, they should not visit the location.
Wearing a mask or a face covering is required in indoor TRCA facilities as per municipal by-laws. All visitors entering an indoor premise are required to wear a mask or face covering while inside. Please arrive prepared with a mask or face covering.
FINDING YOUR WAY AROUND
STAY SAFE! Stay on the trails you see on the map.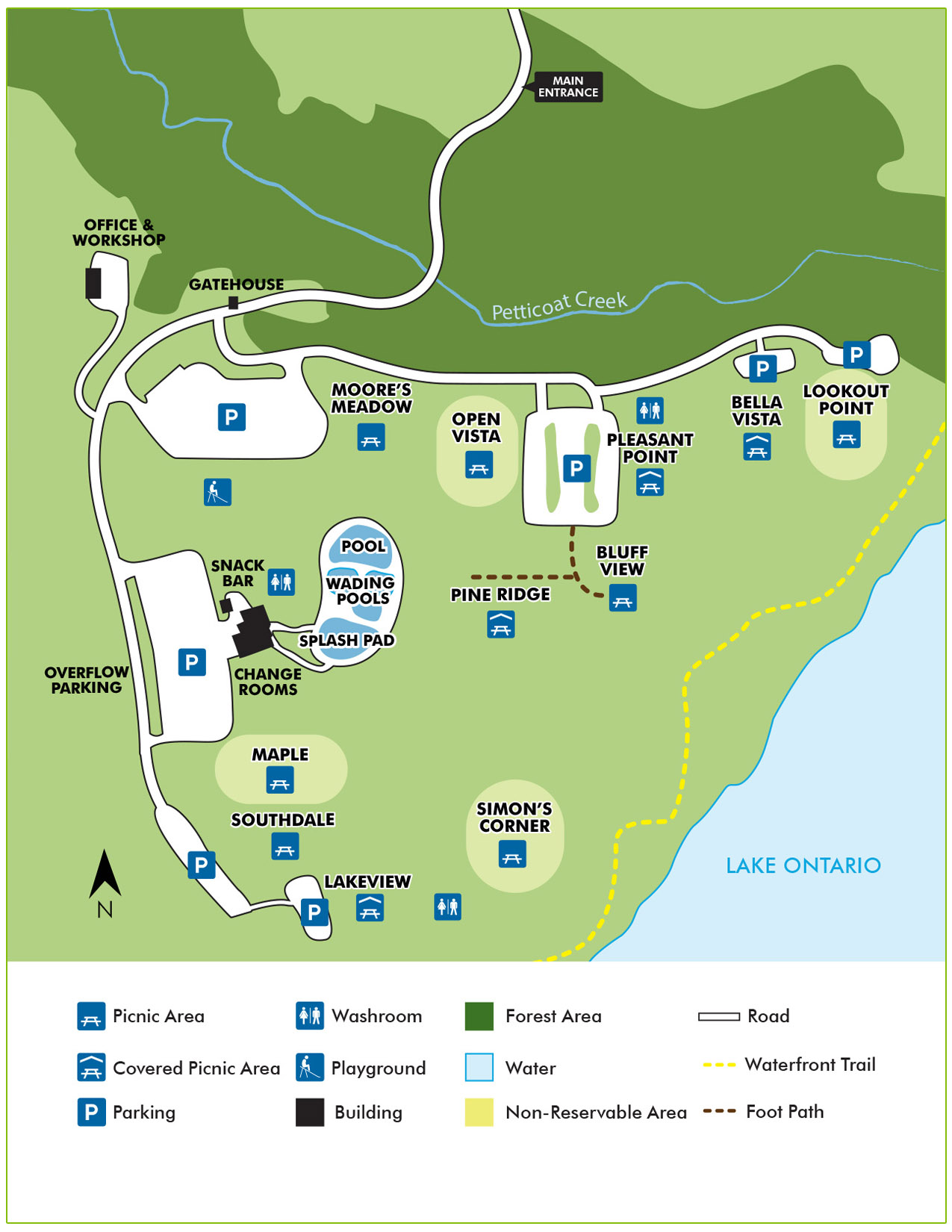 RECREATION AT PETTICOAT CREEK
Swimming
As the health and safety of our communities, patrons, and staff is paramount, Toronto and Region Conservation Authority (TRCA) has made the difficult decision to suspend aquatic facility operations for the 2021 season due to the COVID-19 pandemic. LEARN MORE.
Picnics
With six picnic sites, Petticoat Creek Conservation Park can easily accommodate groups both large and small. Our friendly customer service representatives will help you determine the best site for your group. For more information, visit picnics.ca.
Waterfront Trail
The Waterfront Trail running through Petticoat Creek Conservation Park is part of the 730-kilometre Lake Ontario Waterfront Trail, extending from Niagara-on-the-Lake to the Ontario-Quebec border on the St. Lawrence. The Waterfront Trail within Petticoat Creek offers some of the most panoramic views in southern Ontario.
If you are visiting, make sure you stop at the Waterfront Trail bridge that crosses the creek for a beautiful view of the conservation area. Visitors can enjoy incredible views of Lake Ontario from the top of the bluffs — the perfect spot to visit in the summer to enjoy the mild breezes off Lake Ontario.
Day Camps
During the summer months, Petticoat Creek Conservation Park plays host to numerous day camps and day cares. We offer an ideal location with many shaded areas, picnic shelters for lunch and snack times, open fields for sports and plenty of washrooms. Special permit pricing applies.
Private Functions
For more information, date availability or to book an appointment to visit the facilities, please call 416.667.6295 or email vservices@trca.ca
ACCESSIBILITY
Pool facilities are barrier-free.
PET POLICY
Pets are permitted at most TRCA conservation parks. However, to ensure everyone's safety and enjoyment, we do insist that:
Pets are kept on a leash no longer than 2 metres at all times.
Owners clean up after their pets.
Pets are not permitted in the Aquatic or Visitor Centres.
A maximum of three pets per person/family.
Pets are never to be left unattended.
For more information, please read our Domestic Animals Policy.
Park Admission Fees

*no cash
| | |
| --- | --- |
| Per Person | Price (+HST) |
| Adult (14-64) | $7.75 |
| Senior (65+) | $6.85 |
| Child (4-13) | $5.05 |
| Toddler (0-3) | FREE |
CONSERVATION PARKS MEMBERSHIPS
Enjoy FREE general admission to Petticoat Creek and other locations, along with a host of discounts and savings, when you purchase a Conservation Parks Family & Friends Membership!
---